Current Location:

Home

Current Mood:

calm

Current Music:

Celtic Band - Appalachian Round Up
So, I saw where someone had gone through the lines of Kingdom Hearts Re:Chain of Memories and replaced dark/darkness with cock. Naturally, I was like, someone should do the rest of the games.
And this is what you get.

Hooded Man: Tied to the cock... soon to be completely eclipsed.

Riku: Kairi's coming with us! Once we step through, we might not be able to come back. We may never see our parents again. There's no turning back. But this may be our only chance. We can't let fear stop us! I'm not afraid of the cock!

Maleficent: Will it be he who conquers the cock? Or will the cock swallow him? Either way, he could be quite useful...

Cloud: I tried to exploit the power of cock, but it backfired. I fell into cock, and couldn't find the light.

Sora: How about a rematch sometime? Fair and square, no cock powers involved.



Maleficent: Don't steep yourself in cock too long. The Heartless consume the careless.



Jack: Look! It's brimming with the power of cock! Oogie Boogie is drawing power from those cock globs!



Maleficent: It was reckless to bring her here without at least using a vessel. Remember, 
relying too heavily on the cock powers could cost you your heart.



Kairi's Grandmother: (to young Kairi) Believe in the light, and the cock will never defeat you. 
Your heart will shine with its power and push the cock away. Do you understand, Kairi?



Riku: The cock will destroy you.



Sora: You're wrong, Riku. The cock may destroy my body, but it can't touch my heart. My heart will stay with my friends. 
It'll never die!



Hooded Man: It's really quite simple. Open yourself to the cock. That is all. Maleficent: Yes. The Keyhole to the cock.



Maleficent: What do I care? The cock holds no power over me. Rather, I will use its power to rule all worlds.



Riku: Now, open your heart, surrender it to the cock! Become cock itself! 



Maleficent: This is it! This power! Cock... The true cock! 



Riku: It is I, Ansem, the seeker of cock. 



Riku: So, I shall release you now, Princess. Complete the Keyhole with your power. 
Open the door, lead me into everlasting cock! 



Sora: What's... What's happening to me? Falling...falling...into cock. 



Leon: So the cock is flowing out of the Keyhole...



Sora: I was lost in the cock. I couldn't find my way. As I stumbled through the dark, I started forgetting things
 - my friends, who I was. The cock almost swallowed me. But then I heard your voice - your voice.



Belle: You've come to seal the Keyhole, right? Please, be careful. The cock is raging deep inside. 
We've been holding it back, but we can't hold out much longer.



Aurora: When the Keyhole appeared, cock poured out of it. It 

swallowed Ansem, and he disappeared. 



Cinderella: Though Ansem is gone, the flood of cock hasn't stopped. We're working together to hold it back.



Aurora: I cannot forget the look on his face. As the cock engulfed him, he was smiling.



Jasmine: Sora, please hurry! Cock is pouring from the Keyhole.



Alice: It's all we can do just to hold back the cock.



Alice: Thank you, Sora. I think the cock has begun to weaken.



Jasmine: But I can feel a powerful cock growing somewhere far away.



Aurora: It's the heart of the cock. It must be where Ansem went.



Aurora: Once the cock is gone, all should return to its original state.



Voice of Ansem: Tied to the cock...soon to be completely eclipsed. There is so very much to learn. 



Ansem: Take a look at this tiny place. To the heart seeking freedom this island is a prison surrounded by water. 
And so this boy sought to escape from his prison. He sought a way to cross over into other worlds. 
And he opened his heart to cock.



Ansem: Don't bother. Your voice can no longer reach him where he is. His heart belongs again to cock. 



Ansem: You see, cock is the heart's true essence.



Ansem: Cock conquers all worlds!



Ansem: It is futile. The Keyblade alone cannot seal the door to cock. (to the Kingdom Hearts) Kingdom Hearts! 
Fill me with the power of cock...



Ansem: Supreme cock...
I just realized that my stickies and my tags don't work on the LJ app. This needs to be rectified immediately.
Posted via LiveJournal app for iPhone.
This was my 2011 Wish List, but after noticing that you could make sticky posts, I decided to make this into one. =) Now I just need to make a story sticky.

Wish List
Blue scarf
Sweaters (no turtlenecks, please!)
A swift kick in the ass to iTunes/Firefox and Google Chrome
Books (See book list for details)
Flower seeds to plant next year (keep them blue, white, and purple)
Kindle/Nook/iPad
Digital Camera (one with a flash and with a zoom lens not digital zoom and at least 1.5 megapixels)
Skullcandy earbuds
Gift cards (can never go wrong!)

Anything video-game related, but not limited to:
Legend of Zelda: A Link to the Past
Final Fantasy IX
Final Fantasy Tactics: War of the Lions
Tales of Symphonia
The World Ends With You
The 3rd Birthday
Pokemon White
Nintendo 3DS (Preferably that Fire Emblem one if it can be found now… *lesigh*)
Sony PS3
Nintendo Wii
Zack plushie
Aerith plushie
Riku plushie (Kingdom Hearts II)
Kairi plushie (Kingdom Hearts II)

Book List
The Claiming of Sleeping Beauty – Anne Rice
Beauty's Punishment – Anne Rice
Beauty's Release – Anne Rice
The Fellowship of the Ring – J.R.R. Tolkien
Harry Potter and the Sorcerer's Stone – J.K. Rowling (Hardback)
Harry Potter and the Prisoner of Azkaban - J.K. Rowling (Hardback)
Harry Potter and the Goblet of Fire - J.K. Rowling (Hardback)
Harry Potter and the Half Blood Prince - J.K. Rowling (Hardback)
Kaz the Minotaur - Richard A. Knaak
City of the Lost - Mary H. Herbert
Flight of the Fallen - Mary H. Herbert
Lord of the Rose - Douglas Niles
Wizards' Conclave - Douglas Niles
The Lake of Death - Jean Rabe
Night of Blood - Richard A. Knaak
Tides of Blood - Richard A. Knaak
Sister of the Sword – Paul B. Thompson
Julie of the Wolves – Jean Craighead George
Julie - Jean Craighead George
Julie's Wolf Pack - Jean Craighead George
Bridge to Terabithia – Katherine Paterson
The Great Gilly Hopkins – Katherine Paterson
City of Fallen Angels - Cassandra Clare
Crystal Singer – Anne McCaffrey
Killashandra – Anne McCaffrey
Crystal Line – Anne McCaffrey
To Ride Pegasus – Anne McCaffrey
Pegasus In Flight – Anne McCaffrey
Pegasus In Space - Anne McCaffrey
The Rowan – Anne McCaffrey
Damia - Anne McCaffrey
Damia's Children - Anne McCaffrey
Lyon's Pride - Anne McCaffrey
The Tower and the Hive – Anne McCaffrey
A Gift of Dragons – Anne McCaffrey
The Renegades of Pern – Anne McCaffrey
Dragonseye – Anne McCaffrey
Dragon's Kin – Anne & Todd McCaffrey
Dragonsblood - Anne & Todd McCaffrey
Dragon's Fire - Anne & Todd McCaffrey
Dragon Harper - Anne & Todd McCaffrey
Dragonheart - Anne & Todd McCaffrey
Dragongirl - Anne & Todd McCaffrey
Dragon's Time - Anne & Todd McCaffrey
Dragonsong – Anne McCaffrey
Dragonsinger – AnneMcCaffrey
Dragondrums – AnneMcCaffrey
Born of Night – Sherrilyn Kenyon
Born of Fire – Sherrilyn Kenyon
Born of Ice – Sherrilyn Kenyon
Current Location:

Home

Current Mood:

tired

Current Music:

Evans Blue - Bend
Goodnight
And if I sleep, just to dream of you, I'll wake without you there…
Kairi dreamed, floating in the one place where things made sense. Her boys were gone, and she was all alone on the islands. Everyone thought that Riku had run away, and no one even remembered the other boy at all except for her, and even she didn't remember all that much about him, not even his name. However, she trusted her heart and the strong sense of longing that she had whenever fleeting memories of him passed through her mind continued to reinforce her certainty that he was someone important to her. In her dreams, it was the three of them together once more, before the night of the storm when everything changed.
The red-head rolled over and opened her eyes, quickly noticing that her window was open, allowing the sea breeze to blow her curtains aside and the moonlight to illuminate her room. She rose from her bed to close them when she saw a spot of shadow, darker than the rest, in the darkened room. Frightened, she quickly turned to see who the intruder was. She blinked in surprise when she saw the silver hair cascading down her visitor's face, a face that was covered by a blindfold. However, she didn't have to see his face – she already knew who this was. "Riku…" she whispered, partly afraid to wake the mayor if she spoke too loudly, but mostly afraid that if she spoke too loudly, he would simply disappear like in her dreams. "It's really you…"
"Were you expecting someone else, Kai?" Riku replied, his voice laced with humor and his trademark smirk on his face. He was about to say more when Kairi interrupted him by engulfing him in a tight hug and burying her face into the black robes he wore. "Kairi…" He wrapped his arms around her, hoping to comfort her.
"I missed you," she said, looking up at him, her eyes glazed with unshed tears. "Both of you. Where is he? And why am I the only one who remembers?" She was full of many more questions, but she knew that she didn't – they didn't – have that kind of time. Why pepper him with questions when she could just enjoy the time that she had with him? So, she decided to stick to the most important ones, the ones she needed to know.
Riku was silent for moment before answering, "It's a long story, but he's sleeping. You're the only one who remembers because you're the only one he remembers. Don't worry; he'll be fine with me around."
Kairi didn't understand, but she knew Riku would do anything for Sora, just like she would, so she decided to let it go. Now that the surprise had faded from her, her body remembered that it was tired and she couldn't stifle the yawn that came from her lips. She protested when Riku picked her up and carried her back over to her bed, not wanting to go to sleep now because she knew that Riku would leave as soon as she was settled.
As if he knew what she was thinking, he chucked softly and said, "I'll be here for a little while longer," as he sat down on the bed with Kairi still in his arms, moving her so that her head rested on his shoulder as she leaned against him.
"Something's not right," she murmured, looking up at him from her new place in his lap. She heard the other make a small sound of questioning, but ignored it to reach up to untie his blindfold. With it gone, Kairi saw him open his eyes to look down at her, aquamarine orbs gleaming from the moonlight. "Much better," she whispered before she lost herself in his gaze, and then saw the emotions that he'd been hiding. Regret, self-reproach, worry, and so much more. With no hesitation, she wove her fingers through the silver strands, pulling his head down so that their lips met. She poured everything into the kiss, every emotion, every word, and all the comfort she had to soothe away his troubles, if only for a moment.
Eventually, their lips parted and she gave him a slow smile. "He will be okay. And you will come back, for good – both of you. And I will be waiting."
~*~*~*~*~*~
Kairi's eyelashes fluttered as she fought to remain asleep, trying to ignore the sunlight that shone through her window. Eventually, she gave up the fight and sat up in bed, slowly opening her eyes. The room was empty, except for her. She heaved a sigh of disappointment. It would have been nice to have actually seen Riku…
Yawning all the way, Kairi climbed out of bed and headed to the bathroom. She rubbed the sleep out of her eyes as she stood in front of the mirror, and only then did she see the ribbon-like material wrapped around her hand and wrist. A black ribbon.
Riku's blindfold.
So it hadn't been a dream, Kairi mused to herself as she stared at the long strip of material, a smile slowly creeping its way up over her face. Waiting wasn't so hard, not anymore.
Current Location:

Home

Current Mood:

tired

Current Music:

Utada Hikaru - Sanctuary (After the Battle)
First Meetings
Let's go back, back to the beginning
Back to when the earth, the stars, the sun, all aligned…
"Wait for me, Riku!" a four-year old Sora yelled as he raced his best friend across the island to the beach, the night sky alight with meteors flowing through it.
Riku glanced over his shoulder at Sora and yelled back, "No way!"
Sora ran as fast as he could, never noticing that he'd ran past Riku until he'd looked behind him and saw Riku just standing there, a few feet behind him staring at something on the end of the beach. "Riku? Why'd you stop? I didn't want you to let me win!" When Riku didn't say anything, he turned back to look out at the beach, trying to see what it was that Riku was staring at.
Floating in the water was a little girl about their age with short burgundy hair. In her arms rested a moogle plushie, and she appeared to be asleep. "We gotta get her outta there!" Sora yelled. He dashed to the water line, Riku right there beside him, and they both pulled her out of the water. She stirred slightly in their arms, her eyes opening briefly. "Who are you? Where did you come from?" he asked.
"Kai… ri…" the little girl whispered sleepily before drifting back off.
The two boys looked at each other over the sleeping Kairi, and it was at that moment that both came to a silent mutual agreement that they would look over Kairi from now on.
~*~*~*~*~*~
"Cloud, you big meanie, give that back!" a small raven haired girl yelled at her blond playmate as she tried to get her favorite toy back from him but was thwarted every time since he'd simply switch hands.
"You're gonna have to try harder than that, Tif," Cloud said in response as he continued to play keep-away with Tifa. He was taken completely off guard when the toy was snatched from his hands by a set of hands that didn't belong to Tifa. "Hey, Squall, mind your own-" Cloud began sulkily before realizing that it wasn't the older boy at all but a girl not much older than him he'd never seen before.
She smiled mischievously at him, her green eyes gleaming with happiness as she said, "You're not supposed to take things that don't belong to you, you know." Quickly, before Cloud could stop her, she handed the toy back to Tifa. "Here you go!"
"Thank you," Tifa said gratefully. "I'm Tifa. What's your name?"
"Aerith."
"Wanna be best friends?"
"Sure!"
While the two girls were talking, Cloud took their distraction as a opportunity to steal Aerith's hair ribbon and reclaim Tifa's toy before running away.
Aerith and Tifa shared a look of mutual surprise and irritation before Aerith asked, "Wanna beat him up when we catch him?"
Tifa nodded without hesitation before the two girls ran after Cloud, laughing the entire time.
Current Location:

Home

Current Mood:

creative

Current Music:

Utada Hikaru - Sanctuary
I posted this on a Kingdom Hearts drabble community I'm in earlier, so I decided to go ahead and post it on my journal as well.

Finding Resolve

Seems like I've been walking for ages. How long have I been down here?
She fought against darkness countless times during the race to stop Xehanort from using Ventus to gain the χ blade. Fighting Unversed, fighting Maleficent, fighting Braig, or even fighting Vanitas was nothing compared to this. No story of Master Eraqus could have possibly described what it was like to be surrounded by total darkness with no end in sight.
For Aqua, this was terrifying.
This place was filled with creatures that she'd never seen before, creatures that looked like the Unversed, only born from the utter darkness itself. They were like writhing shadows, emerging from what she'd thought was nothing but the darkness around her, and all coming after her, ready to take the light she possessed away from her as soon as she let her guard down.
She walked for countless hours, always weary, never getting a chance to properly rest. She learned to strike out at every sound; every time her instincts warned her that something was off. Her only warning was the eerily glowing golden eyes that appeared from the shadows, appearing to hover around her before striking out at her. The Keyblade master who'd shown such faith in her skills and hope that she would come back to her friends slowly turned into a desperate, chased animal. Even her surroundings worked against her, filling her heart with despair that she had to fight against inside.
However, there was nowhere to run, nowhere to hide, no solace to be had in the Realm of Darkness. Finally, battered, bruised, and beaten, even Aqua's , the one who'd shone the brightest out of the three Keyblade apprentices, light began to dim and hope began to waver.
Maybe, I should fade into the darkness here…
As she was surrounded by four of the largest shadow creatures that lived in this awful place, the thought occurred to her that maybe there was no escape after all. In all the time that she'd spent in this awful place, she'd never seen one clue for getting out. It felt as if she'd been wandering for years, and she was just so tired… Why continue to fight against the overwhelming odds when she could finally get some rest? She closed her eyes and released Master Keeper. She wasn't going to fight anymore.
They could have her.
It was then that she saw Earthshaker and Wayward Wind appear, carrying with them the only light to be had. They sliced through each of the giant shadows, as if begging her to stay with them. The sight sent a new burst of resolve through Aqua. Terra and Ventus needed her, and she couldn't give up while they did. After all, she did promise that she would be there for them.
There is always a way.
Current Location:

Home

Current Mood:

cheerful

Current Music:

None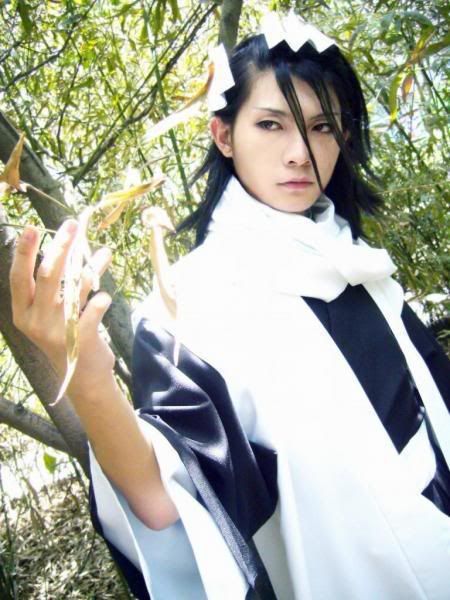 Hmm... I decided to go with Byakuya for this one, since the cosplay just looked so well on the cosplayer.
Day 13 - Cosplay of your 'waifu or husbando'
Current Location:

Home

Current Mood:

awake

Current Music:

Korn - Coming Undone
Okay, this is the best I could do. The anime doesn't have any ecchi moments, since they make the blood drinking be the sexual part of the anime, so I had to go find some fanart. xD
The List
Day 1 - Very first AnimeDay 2 - Favorite Anime You've watched so farDay 3 - Your Anime crushDay 4 - Anime you're ashamed you enjoyedDay 5 - Anime character you feel you are most like (or wish you were)
Day 6 - Most annoying Anime characterDay 7 - Favorite Anime coupleDay 8 - Most epic scene everDay 9 - Saddest Anime sceneDay 10 - Favorite slice of life AnimeDay 11 - Favorite mech series
Day 12 - An ecchi picture from your favorite series
Day 13 - Cosplay of your 'waifu' or Husbando'
Day 14 - current (or most recent) anime wallpaper
Day 15 - Post a cute Neko-girl
Day 16 - post a kigurumi cosplay of your favorite anime character
Day 17 - Favorite tsundere
Day 18 - Something moe
Day 19 - Mandatory swimsuit post
Day 20 - Favorite shoujo anime
Day 21 - Best yandere character
Day 22 - Favorite boy's love couple (or yuri couple, if you don't like that sort of thing)
Day 23 - Anime you think had the best, or most intriguing art
Day 24 - Favorite anime hero or heroine
Day 25 - Best anime villain
Day 26 - Your favorite harem anime
Day 27 - Favorite anime opening theme song
Day 28 - Favorite Pokemon
Day 29 - Favorite school uniform
Day 30 - Anime character you want to cosplay
Day 12 - An ecchi picture from your favorite series
Current Location:

Home

Current Mood:

cheerful

Current Music:

Whitney Houston - I Wanna Dance With Somebody
For that one, I'm going to have to go with Gundam SEED. I have to personally thank my brother Joey for turning me on to this one. He was like, "YOU HAVE TO SEE IT!" and I was like, "Okay, I'll get around to it," and it was EPIC. Love you, Joey!
The List
Day 1 - Very first AnimeDay 2 - Favorite Anime You've watched so farDay 3 - Your Anime crushDay 4 - Anime you're ashamed you enjoyedDay 5 - Anime character you feel you are most like (or wish you were)
Day 6 - Most annoying Anime characterDay 7 - Favorite Anime coupleDay 8 - Most epic scene everDay 9 - Saddest Anime sceneDay 10 - Favorite slice of life AnimeDay 11 - Favorite mech series
Day 12 - An ecchi picture from your favorite series
Day 13 - Cosplay of your 'waifu' or Husbando'
Day 14 - current (or most recent) anime wallpaper
Day 15 - Post a cute Neko-girl
Day 16 - post a kigurumi cosplay of your favorite anime character
Day 17 - Favorite tsundere
Day 18 - Something moe
Day 19 - Mandatory swimsuit post
Day 20 - Favorite shoujo anime
Day 21 - Best yandere character
Day 22 - Favorite boy's love couple (or yuri couple, if you don't like that sort of thing)
Day 23 - Anime you think had the best, or most intriguing art
Day 24 - Favorite anime hero or heroine
Day 25 - Best anime villain
Day 26 - Your favorite harem anime
Day 27 - Favorite anime opening theme song
Day 28 - Favorite Pokemon
Day 29 - Favorite school uniform
Day 30 - Anime character you want to cosplay
Day 11 - Favorite mech series
Current Location:

Home

Current Mood:

chipper

Current Music:

Young Jeezy - The Inspiration (Follow Me)